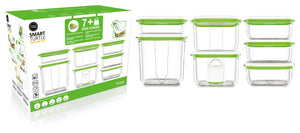 FOSA Vacuum Food Storage System - Barcelona Collection - Jade Combo Set (Item No. BC80000)
Includes:
1 x Turtle vacuum
1 x 3450 ml container 
2 x 2300 ml containers
3 x 1450 ml containers
1 x 1000 ml container
7 x interchangeable lids (Barcelona Collection)
4 x AA Battery
How the Turtle Vacuum works!
The FOSA Turtle uses a one touch vacuum operation with power suction that removes air from the container. To open the container, simply press down on the green center circle and allow air to re-enter the container. The gasket will now be able to be opened.